Bancroft Capital Celebrates Third Anniversary on July 4, 2020
Posted: June 30, 2020
"No matter how wonderful our people or the quality of service(s) Bancroft delivers, it is all for naught without individuals willing to give Bancroft an opportunity," shares Cauldon D. Quinn, Bancroft Founder & CEO. "On this, the third anniversary of Bancroft's founding, we are overwhelmed with GRATITUDE for all of those who have believed in us and given us the chance to earn their business."
Our success, both as a business and a group providing career training for disabled veterans, would not be possible without the many friends who have stood behind us so that our disabled veterans can once again stand on their own. The gratitude we feel compels us to boldly re-invest in our firm with content, people and product(s) capable of increasing the value we return to our loyal friends.
With great pride and appreciation, we acknowledge the following groups who have made our success possible:
The corporations who named Bancroft Capital Co-Manager in transactions totaling more than $100,000,000,000.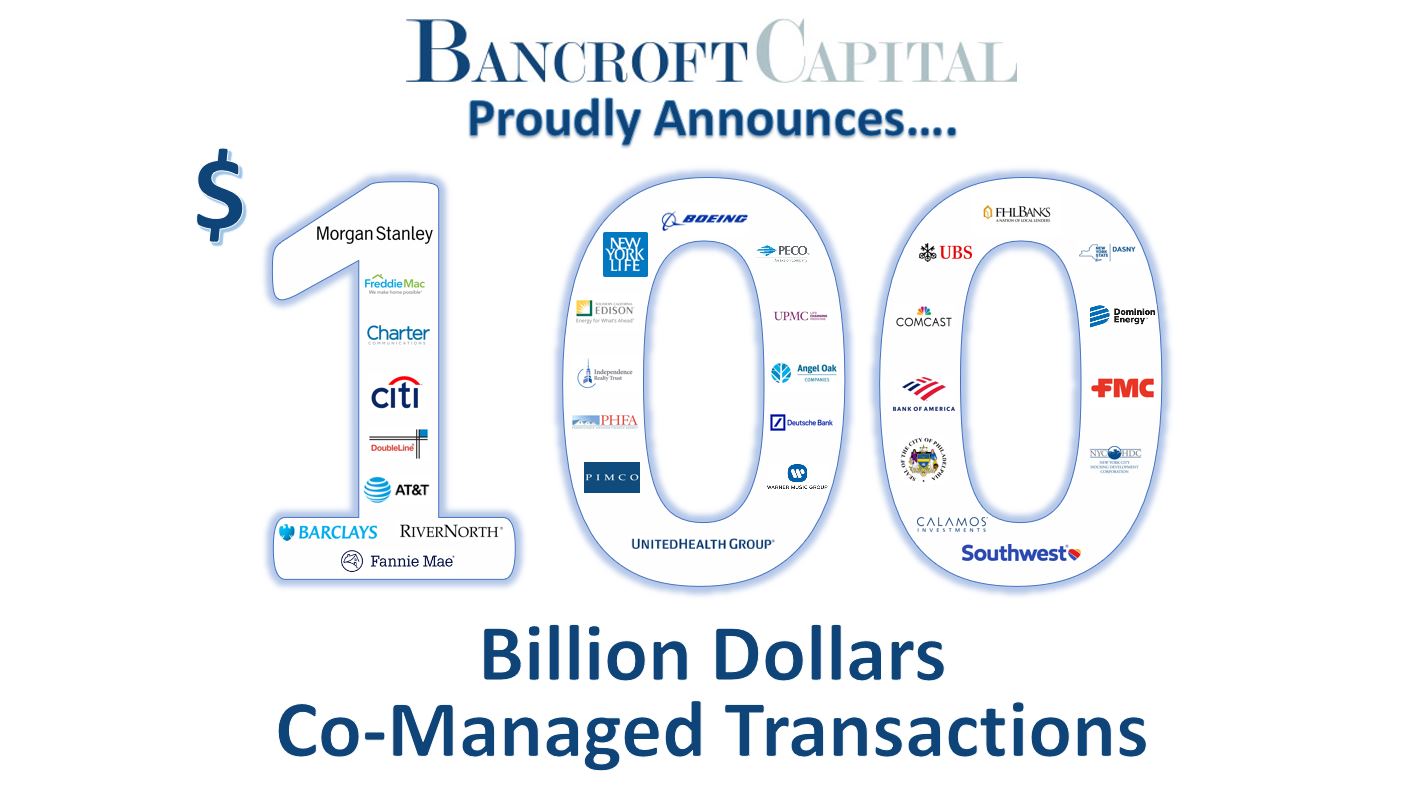 The investment banks, syndicate desks, buy-side accounts and third-party counterparts/vendors with whom we're fortunate to do business
Villanova University and DeSales University for offering vital educational opportunities for Bancroft's Veteran Training Program Candidates
Veteran business organizations & transition units who help us to better serve the Veteran Training Program Candidates
All of Bancroft's Investors
Each Bancroft Capital team member who works tirelessly every day to provide the highest level of services to our clients and invaluable guidance to the Veteran Training Program Candidates
Last but certainly not least, our Veteran Training Program Candidates who have sacrificed on our behalf and now bring their dedication and work ethic to our firm!
Because of the opportunities and support provided by everyone listed above, Bancroft Capital is honored to announce these accomplishments:
Built 5 successful business units
Co-managed over $100 billion in transactions, including:

Municipals – $16 billion
Closed-End Funds – $3 billion
Agencies – $18 billion
Corporates – $56 billion
Equities – $4 billion
Mortgages – $18 billion

Worked with military hospitals to provide transition seminars
Welcomed 6 Candidates into our Veteran Training Program
Graduated our first Candidate into a career as an Institutional Fixed Income Salesperson
Welcomed our first Candidate into the 1-year Executive MBA program
Provided leadership to shift the veteran narrative from "jobs" to "careers" for veterans
We look forward to many continued years of growth and the lives that we may positively influence in that time.