Bancroft Capital Surpasses $300 Billion in Co-Managed Transactions
Posted: November 18, 2021
It is our pleasure to announce, with great pride and appreciation, that we have surpassed $300B in co-managed transactions. Our team is honored to provide best-in-class service to our institutional clients and humbled to have been included in transactions with these issuers. Thank you!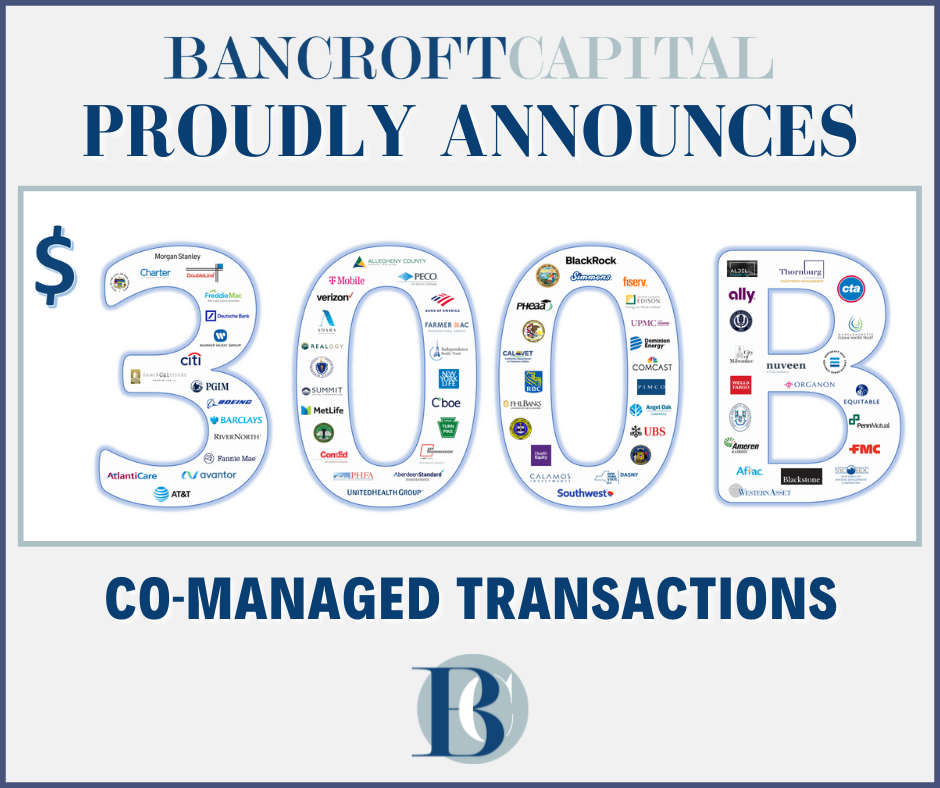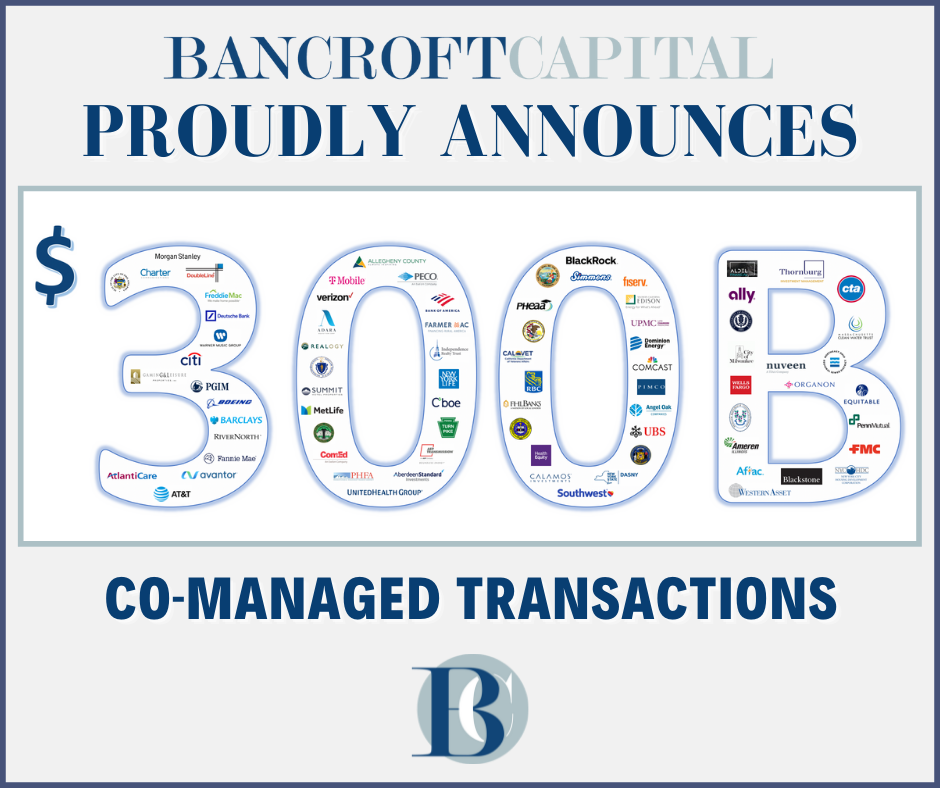 Bancroft Capital, a certified Service-Disabled Veteran-Owned Small Business (SDVOSB) specializing in Institutional Brokerage and Capital Markets services, announces with great pride and appreciation that it has surpassed $300 billion in co-managed transactions.
This lofty milestone was achieved in just four years since the company's establishment in 2017. The leap from $200 billion to $300 billion in co-managed transactions was achieved in just eight months.
"As a service-disabled veteran-owned broker-dealer, Bancroft endeavors to achieve excellence in everything that we do. It is our pursuit of excellence, we hope, that honors the sacrifices of those who wear and have worn the uniform," said Bancroft Founder & CEO Cauldon D. Quinn. "We are grateful to all of those who are giving us that opportunity on a daily basis."
The Bancroft team provides best-in-class service, and is honored that so many customers have provided the opportunity to compete for their business. Bancroft serves as co-manager on transactions including corporate debt and equity transactions, municipal debt transactions, and closed-end fund offerings.
Bancroft was co-founded in 2017 by Cauldon D. Quinn, CEO, a disabled Navy veteran. His vision was to build a company with a strong commitment to service: service to clients, country, and veterans. As a for-profit company, Bancroft rises above the competition on the merit of value-added content and leadership derived from industry veterans with 40+ years of industry pedigree; and on the foundation of a commitment to offer meaningful training and employment to service-disabled military veterans through Bancroft's signature Veteran Training Program (VTP).
A for-profit company, Bancroft funnels profits, earned through its hard work and extensive knowledge, toward its commitment to helping restore disabled veterans to their rightful place as leaders in our society and communities, but first and foremost as providers for their own families.
The VTP puts disabled veterans and first responders in a position to develop a skill set capable of supporting a new career as Institutional Traders and Investment Bankers. Bancroft aims to offer paid opportunities to up to four candidates each year. Candidate training includes a rotation among the five business units Bancroft operates and an introduction to back office and operations functions, sales trading and compliance while participating in the VTP.
Bancroft holds significant certifications and affiliations which illustrate their national significance in the veteran, higher education and business sectors, including: Service Disabled Veteran-Owned Small Business (SDVOSB); Elite SDVOB Network, Veterans in Business Networking for Success (VIB Network), National Veteran Business Development Council, (NVBDC); Disability: IN; NaVOBA Service-Disabled Veteran's Business Enterprise; Goldman Sachs 10,000 Small Businesses; Merck Drexel Advanced Leadership Program for Diverse Suppliers; Villanova University; and DeSales University.
Bancroft places financial industry veterans alongside military veterans to deliver value-added content to its clients; and strives to offer best-in-class service to its institutional clients across an array of financial services.