Bancroft Capital Associate William J. Marm is Featured Speaker at BNP Paribas Vietnam Veterans Day Tribute Event, Tuesday, March 29
Posted: March 28, 2022
Bancroft Capital Markets Associate and former U.S. Army Green Beret, Lieutenant Colonel (Ret) William J. Marm, will be a feature speaker at the virtual BNP Paribas Vietnam Veterans Day Tribute Event on Tuesday, March 29.
He will be accompanied by his father, U.S. Army Colonel (Ret) Walter Marm, who will discuss the heroic actions that led to him receiving the Congressional Medal of Honor, the highest and most prestigious military decoration awarded to recognize service people who have distinguished themselves by acts of valor. The event is scheduled to take place online on Tuesday, March 29 from 4. to 5 p.m.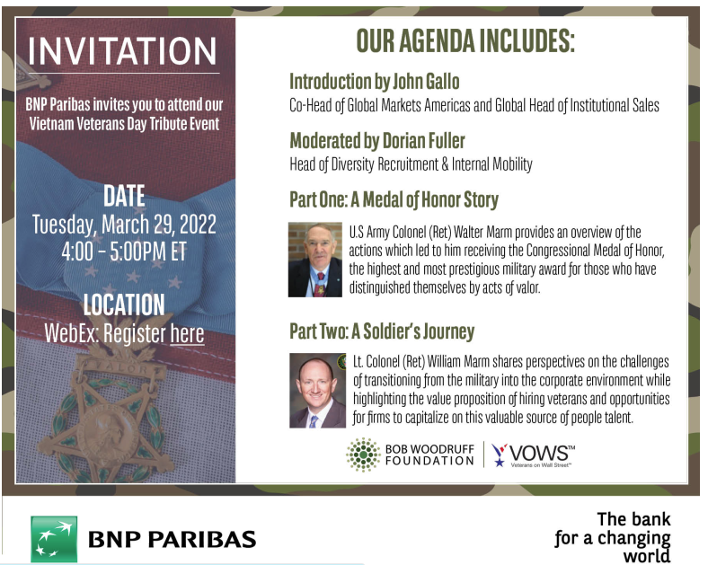 A recent graduate of the Bancroft Veteran Training Program (VTP), Will Marm will share his perspectives on the challenges of transitioning from the military into the corporate environment, highlighting the value proposition of hiring veterans and opportunities for firms to capitalize on this valuable pool of talent.
A veteran of the United States Army, Marm is now a registered Bancroft representative with the FINRA SIE, Series 7, and Series 63, Thanks to the Bancroft VTP.
Bancroft Capital, a certified Service-Disabled Veteran-Owned Small Business (SDVOSB) specializing in Institutional Brokerage and Capital Markets services, was co-founded in 2017 by Cauldon D. Quinn, CEO, a disabled Navy veteran. His vision was to build a company with a strong commitment to service: service to clients, country, and veterans. As a for-profit company, Bancroft rises above the competition on the merit of value-added content and leadership derived from industry veterans with 40+ years of industry pedigree; and on the foundation of a commitment to offer meaningful training and employment to service-disabled military veterans through Bancroft's signature Veteran Training Program (VTP).
The VTP puts disabled veterans and first responders in a position to develop a skill set capable of supporting a new career as Institutional Traders and Investment Bankers. Bancroft aims to offer paid opportunities to up to four candidates each year. Candidate training includes a rotation among the five business units Bancroft operates and an introduction to back office and operations functions, sales trading and compliance while participating in the VTP.
To register for the BNP Paribas event, please visit this link.