Bancroft Capital Associate William J. Marm to Present A Geopolitical Debrief on Russia's Invasion of Ukraine at Annual Security Traders Association of New York (STANY) Conference Monday, April 4
Posted: March 16, 2022
Bancroft Capital Markets Associate and former U.S. Army Green Beret, Lieutenant Colonel (Ret) William J. Marm, is scheduled to speak on the Russian invasion of Ukraine at the annual Security Traders Association of New York (STANY) Conference. The conference is scheduled to take place at 11 Wall Street (NYSE) on Monday, April 4 from 8 a.m. to 9 p.m.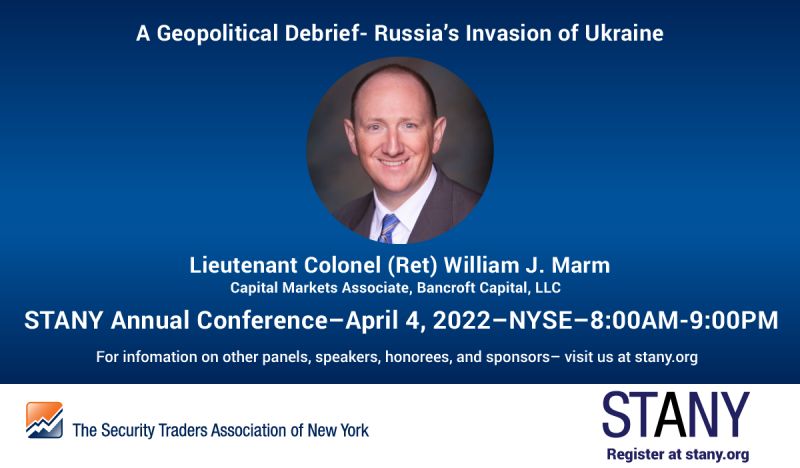 Marm is a keynote speaker at this year's conference, where he'll be presenting 'A Geopolitical Debrief – The Russian Invasion of Ukraine' from 1:30-1:50 p.m. Marm will discuss an up-to-date synopsis of the invasion and its effects on global markets. A 20-year veteran of the United States Army and a financial services professional, Marm will give a unique perspective on the topic. Marm enrolled in the Bancroft Veteran Training Program following his military career; he recently graduated and is now a registered Bancroft representative with the FINRA SIE, Series 7, and Series 63.
Bancroft Capital, a certified Service-Disabled Veteran-Owned Small Business (SDVOSB) specializing in Institutional Brokerage and Capital Markets services, was co-founded in 2017 by Cauldon D. Quinn, CEO, a disabled Navy veteran. His vision was to build a company with a strong commitment to service: service to clients, country, and veterans. As a for-profit company, Bancroft rises above the competition on the merit of value-added content and leadership derived from industry veterans with 40+ years of industry pedigree; and on the foundation of a commitment to offer meaningful training and employment to service-disabled military veterans through Bancroft's signature Veteran Training Program (VTP).
The VTP puts disabled veterans and first responders in a position to develop a skill set capable of supporting a new career as Institutional Traders and Investment Bankers. Bancroft aims to offer paid opportunities to up to four candidates each year. Candidate training includes a rotation among the five business units Bancroft operates and an introduction to back office and operations functions, sales trading and compliance while participating in the VTP.
A Storied Military Career
William J. Marm graduated from the U.S. Military Academy at West Point in 1999 and was commissioned as a 2nd Lieutenant in the Infantry. In 2010, LTC Marm graduated with distinction from the Naval Postgraduate School with an MS in Terrorist Financing. He served 20 years on active duty. LT Marm served as a Platoon Leader with the 1-503rd Infantry, 2nd Infantry Division in Camp Casey, Korea in 2000. From Korea, he was assigned in 2001 to 3-15th Infantry Regiment, 3rd Infantry Division (Mechanized) and served as a Mechanized Infantry Company Executive Officer and a Battalion Staff Officer. After Ft. Stewart, Georgia, CPT Marm was assigned in 2004 to Ft Bragg, North Carolina for the Special Forces Qualification Course where he earned the Green Beret and transferred to the Special Forces. In 2005, CPT Marm was assigned to 1-10th Special Forces Group (Airborne) in Panzer Kaserne, Germany. There he served as a Special Forces Detachment Commander and Executive Officer. MAJ Marm studied at the Naval Postgraduate School where he earned his Master's Degree in Defense Analysis. MAJ Marm returned to 10th SFG(A) to command C Company, 1-10th SFG(A) and then served as the Battalion Operations Officer. LTC Marm worked at Special Operations Command, Europe as a Strategic Planner and was the Crisis Response Branch Chief. LTC Marm finished his career as the Special Operations Advisor to 4ID.
His military education includes the Infantry Officer Basic Course, Infantry Captain's Career Course, Combined Arms Staff Service School, Joint Combined Warfighting School, Ranger School, Mortar Leader's Course, Air Assault School, Jumpmaster Course, Special Forces Qualification Course, and the Special Forces Advanced Reconnaissance, Target Acquisition, and Exploitation Techniques Course.
In addition to multiple combat tours, LTC Marm has extensive operational experience throughout Europe, Africa, and the Middle East.
His awards and decorations include the Bronze Star Medal with two oak leaf cluster, Defense Meritorious Service Medal, Meritorious Service Medal with oak leaf cluster, Joint Service Commendation Medal, Army Commendation Medal with two oak clusters, Joint Service Achievement Medal, Army Achievement Medal, Presidential Unit Citation, Valorous Unit Award, Joint Meritorious Unit Citation, Meritorious Unit Citation with oak leaf cluster, Combat Infantryman Badge, Expert Infantryman Badge, Special Forces Tab, Ranger Tab, Master Parachutist Badge, German Schutzenschnur Badge (Gold), and foreign parachutist badges from Germany (Gold), Ireland, Estonia, and Niger.
For more information on the STANY Conference visit https://stany.org.
For more information about Bancroft Capital or William J. Marm, visit bancroft4vets.com or call 484-546-8000.