Pennsylvania Treasurer Stacy Garrity Speaks to Veteran Training Program Graduates and Candidates at Fort Washington Office
Posted: March 8, 2022
Bancroft Capital was pleased to host Pennsylvania Treasurer Stacy Garrity, Executive Deputy Treasurer, Hugh Allen, and Pennsylvania Chief Investment Officer Tom Clancy on March 4, 2022.
Treasurer Garrity and her colleagues addressed our Veteran Training Program graduates and the current class of Candidates, who are working to cultivate a successful civilian career in their post-military lives.
Treasurer Garrity is a former Army Reservist who was deployed in three different conflicts in defense of the United States: Operation Desert Storm (1991), Operation Iraqi Freedom (2003), and Operation Enduring Freedom (2008). She was awarded the Bronze Star twice for exceptional service and received the Legion of Merit before retiring from the Army Reserve with the rank of colonel. Read Treasurer Garrity's full bio.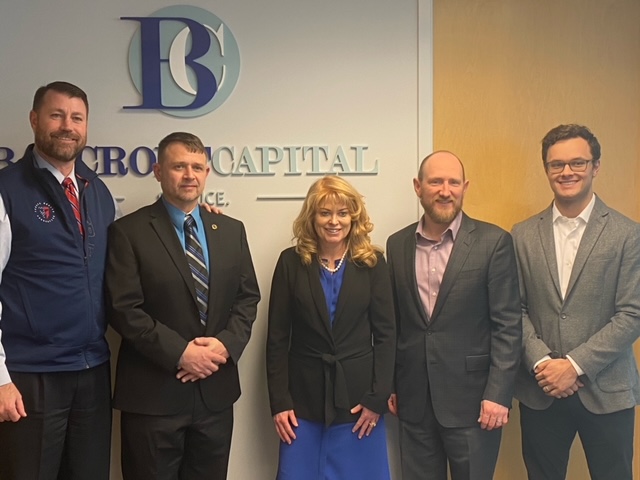 "Bancroft was humbled and honored to welcome Treasurer Garrity and members of her staff to Bancroft's Fort Washington, PA headquarters," said Bancroft CEO Cauldon Quinn. "We are grateful for Treasurer Garrity's interest in our Veteran Training Program, through which we train disabled veterans for successful careers in institutional finance. Moreover, we appreciate a life's worth of service Treasurer Garrity has offered to her country, as a Col. in the Army and now as State Treasurer.
"As the only full-service diversity broker-dealer in the Commonwealth of Pennsylvania, Bancroft looks forward to partnering with Treasurer Garrity to offer support to veterans, disabled-veterans and first-responders in Pennsylvania and throughout the country," Quinn added.
Committed to offering meaningful training and employment to service-disabled veterans, Bancroft Capital launched its signature Veteran Training Program (VTP) in 2019. Bancroft funnels profits, earned through its hard work and extensive knowledge, into the VTP, which puts disabled veterans in a position to develop a skill set capable of supporting a new career as Institutional Traders and Investment Bankers. Bancroft is dedicated to helping restore disabled veterans to their rightful place as leaders in our society and communities, but first and foremost as providers for their own families.
Bancroft aims to offer paid opportunities to up to four VTP candidates each year. Candidate training includes a rotation among the five business units Bancroft operates and an introduction to back office and operations functions, sales trading and compliance while participating in the VTP.